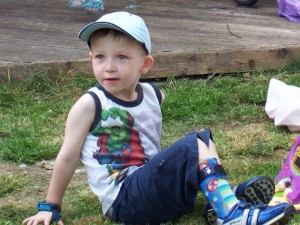 You may find it rather odd to have a page devoted to how to purchase shoes, but it's a major issue for parents of children with hemiplegia.  Many children with hemiplegia wear orthotics (braces) on one foot and finding shoes that are attractive and fit with the orthotic can be a challenge.
Buying Shoes – Why is it so difficult?
Orthotics rarely work with a high heeled shoe and will usually slip out of sandals.  They're usually too slippery to be worn barefoot.  The most compatible shoe is a closed lace up type shoe, such as an athletic shoe.  Check with the maker of your child's orthotic to see which type of shoe they recommend for your child.
Kids with hemiplegia often have a smaller foot on one side and require two different sized shoes when not wearing their orthotic. Sometimes the orthotic will make up the foot size difference and you can buy one pair of shoes.
Ask your orthotist if it's okay to pull the insole out of the shoe to make room for the brace.
Nordstrom Department Store will  sell you a left and a right shoe which are different sizes. You only pay for one pair of shoes.
Brooks brand will sell you two different sizes of shoes for the price of one pair plus an additional $30. You order from a local store that sells Brooks, usually a Runner's store, and they have the shoes shipped to their store. You can't order two different sizes directly from Brooks.
Favorite shoes that fit over orthotics:  Hatchbacks, Stride Rite, New Balance, Converse, and Nike.
Watch for shoes that zip up the sides. Sometimes it's easier to insert the brace into this type of shoe.
Sometimes medical insurance or Medicaid will cover the cost of Hatchbacks.
Shoes that work well with orthotics
Drew Bloom II
– Footwear designed with twice the toe room of a traditional shoe. The extra space can alleviate swollen feet and allow the use of several custom orthotics on top of the factory insole.
Nordstrom's
– will only charge you for one pair, even if you have to have a different size or width.
The Wide Shoes
– Carries men's and women's medium, wide and extra wide width shoes. Also carry children's orthopedic shoes for children who need extra-depth to accommodate AFO's, KAFO's and inserts.
Basketball Shoes and Orthotics
Parents recommend the following shoes for sports:
Nike or Adidas high tops over a hinged AFO. Take the insole out and loosen laces all the way down the shoe to get the AFO all the way into the shoe. This is especially important in the beginning when the shoe is stiff.
Brooks
CHASA Shoe Exchange
Find someone who wears the opposite sizes and trade shoes.  More info on CHASA Shoe Exchange.
Socks Designed for Orthotics or AFOs
Keeping Pace OrthopedicFootwear – Specially sized for AFOs, with extra long length extends that beyond top of brace

Knee high socks work well with taller braces. These can often be purchased from:
Nordstrom
Lands End
Sporting goods stores
J C Penney
Old Navy
Stride Rite
Gymboree
Kohl's
Children's Place
Hot Topic
CHASA Orthotic Grants
Having problems paying for your child's orthotic? CHASA helps families of children and young adults who have a diagnosis of hemiplegia. Learn more.
Adapting Flip Flops
My daughter Anna has cerebral palsy, the result of a stroke at birth. But she's also a teenaged girl, and sometimes she just wants to be like her friends. In summer, that often means she would love to wear flip flops. Up until this summer that was something she could only dream about. Because of spasticity in her right foot, caused by her cerebral palsy, flip flops are nearly impossible for Anna to wear. But then we thought of a way to add a nearly invisible strap to a flip flop. While she still can't run in flip flops, at least she can wear them to the pool and back or out to the movies with her friends.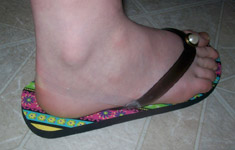 All you need to make this is one pair of flip flops, a package of clear elastic (which you can buy from most fabric stores and hobby shops) and a rubber-based adhesive, such as E-6000 or Goop. Attach an elastic strap to points about one inch from where the flip flop side straps attach to the sole. Then let the adhesive set overnight.
My daughter wore her invisible-strapped flip flops more than a dozen times before the elastic stretched a bit and we had to replace the strap. But that's so easy to do that we could replace the straps time after time for the full lifespan of the shoe if we wanted to without any real frustration setting in. ~ Article by Cindy Day