When you dream of becoming a parent, you never think that you will become the parent of a child with a disability. At first it is devastating, for you. You lay on a guilt trip; you cry your eyes out; you think what am I going to do?  You may think the worst. And when all that is over, you will look into those baby eyes and say this makes me love you no less, only more.

You will find strengths inside that you never knew you had. Take one day at a time and remember to enjoy those baby years.  Welcome to CHASA! – Kristy – parent
Your child has just received the diagnosis of hemiplegia or hemiparesis. Your next question may be – now what? The Children's Hemiplegia and Stroke Association (CHASA) is here to assist you, to offer you hope, to provide information and to direct you to resources that may be helpful to you on your journey.
On this website, the terms hemiplegia and hemipareis will be used interchangeably.
The first thing to understand is that hemiplegia is sometimes a very complex condition and this can sometimes be overwhelming. Try to focus on the issues that are currently affecting your child's life.
Remember that hemiplegia affects all individuals differently, so what you may read about one person and how hemiplegia impacts his or her life may be quite different from how it impacts your child's life.
Get started finding information and support by clicking on the links below or on the left side of this page. You may want to start with What Do I do Next? or locate a support community. If you're wondering if your child has hemiplegia, the Early Intervention information will be help you learn how to obtain a diagnosis.
What Do I Do Next?  Your child has just received a diagnosis of hemiplegia, hemiparesis, infant stroke or some other condition and you need help knowing where to turn. On this page, parents share some of their tips and "do this next" ideas.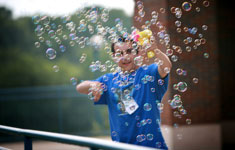 Our Kids Rock!– We want to share some of the amazing things our kids do every day. This is the place where you'll hear lots of bragging!
Support Community—Find others who understand what you're going through. CHASA's online discussion groups and local support groups will help you connect with families of children who have children with a diagnosis of hemiplegia or hemiparesis.
CHASA Medicaid Waiver Fact Sheet – Please add your child's name to these waiting lists, even if he may not currently require services. By the time your child's name comes up on the list, she may need services. Some of these programs are not based on family income.
Early Intervention Services can make a significant difference in your child's development. These services are available for children from birth up to age 3.Every state has these services and they are usually free or on a sliding fee scale.
Meet Our Kids – Read detailed stories of some of our amazing kids.