What Is Early Intervention?
Early intervention is a system of services that helps babies and toddlers who are experiencing developmental delays or disabilities. It's a way to help children with hemiplegia, pediatric stroke or other related conditions catch up. Early intervention programs typically begin a short time after birth or as soon as a developmental delay is discovered and continue until age 3 years. These services are mandated by a federal law called the Individuals with Disabilities Education Act (IDEA), Part C.  The law requires that all states provide early intervention services for all children who qualify, with the goal of enhancing the development of infants and toddlers. An amendment to IDEA in 2004 allowed States to have early intervention programs that may continue until the child is eligible to enter Kindergarten.
Who Qualifies for Early Intervention Services?
Children who have a diagnosis of stroke, hemiplegia, cerebral palsy, or other secondary conditions such as seizures, hearing or visual, behavioral, speech and language or feeding issues will often need and qualify for early  intervention services.   If your child has a developmental delay, meaning that the child is not reaching typical milestones like rolling over or sitting up, your child may need early intervention services.
Early intervention programs may provide specialized health, educational, and therapeutic services during the first three years of life for children who have a developmental delay or disability.  Children who are considered "at risk" of developing a delay may also receive services.  The most common intervention services for children with hemiplegia are physical therapy, speech and language therapy, and occupational therapy.
How Do I Locate My State's Early Intervention Services?
Your child needs to be evaluated to determine if he or she is eligible for early intervention services.  This evaluation is free because it is funded by the state and federal government.  Each state has Early Intervention programs and you can find those through the search engine at the Early Childhood Technical Assistance Center or by searching for "Early Intervention" programs and the name of your state. Your child's pediatrician and the pediatric departments of your local hospitals can put you in touch with early intervention programs in your community. The 2-1-1 Information and Referral program may also assist you in finding resources in your community.
Once your child has been tested and determined to be eligible for early intervention services, you will meet with the early intervention team to develop a plan of services, called the Individualized Family Service plan.  This document will outline the services that your child will receive. Writing the IFSP for Your Child who has hemiplegia is the first step after your child's evaluation and acceptance into an Early Intervention Program.
Depending on your child's needs, his or her early intervention services may include:
Family training, counseling, and home visits
Special instruction
Speech-language pathology services (sometimes referred to as speech therapy)
Audiology services (hearing impairment services)
Occupational therapy
Physical therapy
Psychological services; medical services (only for diagnostic or evaluation purposes)
Health services needed to enable your child to benefit from the other services
Social work services
Assistive technology devices and services
Transportation
Nutrition services
Service coordination services
Will I Have to Pay for Early Intervention Services?
Whether or not you, as parents, will have to pay for any services for your child depends on the policies of your state. Under IDEA, the following services must be provided at no cost to families: Child Find services, evaluations and assessments, the development and review of the Individualized Family Service Plan, and service coordination.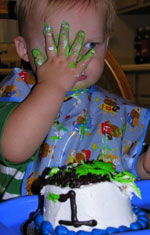 Depending on your state's policies, you may have to pay for certain other services. You may be charged a "sliding-scale" fee, meaning the fees are based on what you earn. Check with the contact person in your area or state. Some services may be covered by your health insurance, by Medicaid, or by Indian Health Services. Every effort is made to provide services to all infants and toddlers who need help, regardless of family income. Services cannot be denied to a child just because his or her family is not able to pay for them.
Keeping Your Child's Records
As you contact different people and places, it's a good idea to keep records of people you've talked with and what was said. As time goes by, you will want to add other information to your file, such as:
Letters and notes (from doctors, therapists, etc.)
Medical records and reports
Results of tests and evaluations, including digital images of tests if available
Notes from meetings about your child
Therapist(s') reports
IFSP and IEP records
Your child's developmental history, including personal notes or diaries on your child's development
Records of shots and vaccinations
Family medical histories
Make sure you get copies of all written information about your child (records, reports, etc.). This will help you become an important coordinator of services and a better advocate for your child. Remember, as time goes on, you'll probably have more information to keep track of, so it's a good idea to keep it together in one place.
Early Intervention Programs – State Listings
Physical therapy and other interventions in the child's life enhance development. These programs are often sponsored by individual counties and may vary considerably from one area to another. In every state in the United States, there are early intervention programs, although they may be known under other names.  These programs serve children from birth to three years of age.
By the age of three, your child is legally entitled to Public school intervention, and should receive a variety of services including psychological testing, occupational and physical therapy interventions, speech and communications, nursing services and educational plans.  An Individual Educational Plan (IEP) is set up or the child and is a written plan for services.
Contact information for the coordinator of the Early Intervention Program under IDEA in each state and participating locations is listed below.
Alabama
Elizabeth D. Prince, Part C Coordinator
Early Intervention Program
2129 East South Boulevard
P. O. Box 11586
Montgomery, AL 36111-0586
Early Intervention Child Find number, 1-800-543-3098
Alaska
Jane Atuk, Part C Coordinator
Maternal and Child Health
State Department of Health and Social Services
3601 C Street, Suite 934
P. O. Box 240249
Anchorage, AK 99524-0249
(907) 269-3419
Fax: (907) 269-3465
American Samoa
Julia Lyons, Part C Coordinator
Department of Health
Government of American Samoa
Pago Pago, AS 96799
(684) 633-4929
Fax: (684) 633-2167
Arizona
Molly Dries, Part C Coordinator and Exec Director
Arizona Early Intervention Program
Department of Economic Security
3839 North 3rd Street, Suite 304
Site Code #801.A-6
Phoenix, AZ 85012
(602) 532-9960 x113
Fax: (602) 200-9820
Arkansas
Sherrill Archer, Part C Coordinator
DD Services, Department of Human Services
Donaghey Plaza North
7th and Main Streets
PO Box 1437, Slot 2520
Little Rock, AR 72203-1437
(501) 682-8699
Fax: (501) 682-8687
Bureau of Indian Affairs
Angelita Felix, Lead Education Specialist
Division of School Improvement
OIEP
500 Gold Avenue, SW, Room 7202
P. O. Box 1088
Albuquerque, NM 87103
(505) 248-7527
Fax: (505) 248-7546
California
Rick Ingraham, Chief, Children and Family Services Branch
Early Start System
Children and Family Services Branch
Department of Developmental Services
1600 9th Street, MS:3-12
PO Box 944202
Sacramento, CA 95814
(916) 654-2205
Fax: (916) 654-3255
Colorado
Susan Smith, Part C Coordinator
Prevention Initiatives
Colorado Department of Education
201 East Colfax Avenue, Room 301
Denver, CO 80203
(303) 866-6709
Fax: (303) 866-6662
Connecticut
Linda Goodman, Part C Coordinator
Birth to Three System
Department of Mental Retardation
460 Capitol Avenue
Hartford, CT 06106-1308
(860) 418-6147
Fax: (860) 418-6003
Delaware
Rosanne Griff-Cabelli, Part C Coordinator
Division of Management Services
Department of Health and Social Services
1901 North Dupont Highway, Room 204
New Castle, DE 19720
(302) 577-4647
Fax: (302) 577-4083
District of Columbia
Joan Christopher, Part C Coordinator
Office of Early Childhood Development
DC-EIP Services
717 14th Street, NW, Suite 730
Washington, DC 20002
(202) 727-1839
Fax: (202) 727-8166
Florida
Department of Health
2020 Capital Circle SE, BIN # A06
Tallahassee, FL 32399-1700
(850) 245-4444 Ext.2223 (Evans)
(850) 245-4444 Ext.2234 (Kelley)
(850) 245-4221 (Rutkowski)
Fax: (850) 414-7350
Georgia
Office of Children with Special Needs, Babies Can't Wait Program
Division of Public Health, Family Health Branch
Department of Human Resources
2 Peachtree Street, NE, Suite 11-206
Atlanta, GA 30303-3186
(404) 657-2721 (Moss)
(404) 657-2727 (Sanders)
Fax: (404) 657-2763
Hawaii
Zero-to-3 Hawaii Project
Department of Health
Pan Am Building
1600 Kapiolani Boulevard, Suite 1401
Honolulu, HI 96814
(808) 957-0066
Fax: (808) 946-5222
Idaho
Mary Jones, Project Manager
Infant/Toddler Program
Department of Health and Welfare
450 West State Street, 5th Floor
PO Box 83720
Boise, ID 83720-0036
(208) 334-5523
Fax: (208) 334-6664
Illinois
Janet Gully, Acting Bureau Chief
Department of Human Services
Bureau of Early Intervention
623 East Adams, 2nd Floor
PO Box 19429
Springfield, IL 62794-9429
(217) 782-1981
Fax: (217) 524-6248
Indiana
Maureen Greer, Part C Director
First Steps
Bureau of Child Development
Division of Family and Children
402 West Washington Street, #W-386, MS02
Indianapolis, IN 46204
(317) 233-9229
Fax: (317) 232-7948
Iowa
Lynda Pletcher, Part C Coordinator
Early Access/Part C
Bureau of Children, Family, and Community Services
Grimes State Office Building, 3rd Floor
Des Moines, IA 50319-0146
(515) 281-7145
Fax: (515) 242-6019
Kansas
Carolyn Nelson, Coordinator
Infant Toddler Program
Department of Health and Environment
Children's Developmental Services
1000 SW Jackson, Room 220
Topeka, KS 66612-1274
(785) 296-6135
Fax: (785) 296-8626
Kentucky
Germaine O'Connell, Part C Coordinator
First Steps Program
Division of Mental Retardation
Department of MH and MR Services
100 Fair Oaks Lane, 4E-E
Frankfort, KY 40621-0001
(502) 564-7722
Fax: (502) 564-0438
Louisiana
Evelyn Johnson, Section Supervisor Part C and ECSE
Division of Special Populations
State Department of Education
PO Box 94064
Baton Rouge, LA 70804-9064
(225) 342-3730
Fax: (225) 342-5297
Maine
Joanne C. Holmes, 619 and Part C Coordinator
Child Development Services
Department of Education
State House Station #146
Augusta, ME 04333
(207) 624-6660
Fax: (207) 624-6661
Maryland
Deborah Metzger, Branch Chief (Part C Coordinator)
MD Infant/Toddler/Preschool Services Division
Division of Special Education/Early Intervention Services
State Department of Education
200 West Baltimore Street
Baltimore, MD 21201
(410) 767-0261
Fax: (410) 333-2661
Massachusetts
Ron Benham, Part C Coordinator and Dir. of EI
Early Intervention Services
Department of Public Health, 4th Floor
250 Washington Street
Boston, MA 02108-4619
(617) 624-5969
Fax: (617) 624-5990
Michigan
Vanessa Winborne, Part C Coordinator
Early On Michigan
Office of Special Education and EI Services
Michigan Department of Education
PO Box 30008
Lansing, MI 48909
(517) 335-4865
Fax: (517) 373-7504
Minnesota
Jan Rubenstein, Part C Coordinator
Interagency Early Intervention Program
Department of Children, Families and Learning
1500 Highway 36 West
Roseville, MN 55113-4266
(651) 582-8436
Fax: (651) 582-8494
Mississippi
Roy Hart, Part C Coordinator
Infant and Toddler Program
Mississippi State Department of Health
2423 North State Street, Room 105A
PO Box 1700
Jackson, MS 39215-1700
(601) 576-7427
Fax: (601) 576-7540
Missouri
Paula Goff, Part C Coordinator and Director
Early Childhood Special Education
Department of Elementary and Secondary Education
State Department of Education
PO Box 480
Jefferson City, MO 65102-0480
(573) 751-0185
Fax: (573) 526-4404
Montana
Vicki LaFond-Smith, Part C Coordinator
Developmental Disabilities Program
Department of Public Health and Human Services
P. O. Box 4210
Helena, MT 59604-4210
(406) 444-7382
Fax: (406) 444-0230
Nebraska
Charlotte Lewis, Part C Co-Coordinator
Nebraska Department of Health and Human Services
Special Services for Children and Adults (Early Intervention)
301 Centennial Mall South
PO Box 95044
Lincoln, NE 68509
(402) 471-9329
Fax: (402) 471-6252
Joan Luebbers, Part C Consultant
Special Education Office
Nebraska Department of Education
301 Centennial Mall South
PO Box 94987
Lincoln, NE 68509-2471
(402) 471-2463
Fax: (402) 471-5022
Nevada
Janelle Mulvenon, Clinical Program Manager
Community Connections
Department of Human Resources
3987 South McCarran Boulevard
Reno, NV 89502
(775) 688-2284
Fax: (775) 688-2558
New Hampshire
Carolyn Stiles, Part C Coordinator/Program Specialist
Family Centered Early Supports and Services
Department of Health and Human Services
Division of Developmental Services
105 Pleasant Street
Concord, NH 03301
(603) 271-5122
Fax: (603) 271-5166
New Jersey
Terry Harrison, Part C Coordinator
Early Intervention Program
Department of Health and Senior Services
Division of Family Health Services
PO Box 364
Trenton, NJ 08625-0364
(609) 777-7734
Fax: (609) 292-0296
New Mexico
Andy Gomm, Part C Coordinator
Long Term Services Division
Department of Health
1190 St. Francis Drive
PO Box 26110
Santa Fe, NM 87502-6110
(505) 827-0103
Fax: (505) 827-2455
Gloria Yepa, Education Specialist
Division of School Improvement
OIEP
500 Gold Avenue, SW, Room 7202
P. O. Box 1088
Albuquerque, NM 87103
(505) 248-7451
Fax: (505) 248-7546
New York
Donna Noyes, Director
Early Intervention Program
State Department of Health
Corning Tower, Room 208
Empire State Plaza
Albany, NY 12237-0618
(518) 473-7016
Fax: (518) 473-8673
North Carolina
Duncan Munn, Program Manager
Department of Public Health
Early Intervention Branch, DHHS
Womens and Childrens Health Section
1020 Richardson Drive, Royster Building
2302 Mail Service Center
Raleigh, NC 27699-2302
(919) 715-7500 Ext.233
Fax: (919) 733-3075
North Dakota
Debra Balsdon, Part C Coordinator
Developmental Disabilities Unit
Department of Human Services
600 South 2nd Street, Suite 1A
Bismarck, ND 58504-5729
(701) 328-8936
Fax: (701) 328-8969
Northern Mariana Islands
Suzanne Lizama, Coordinator
CNMI Public Schools
PO Box 1370 CK
Saipan, MP 96950
(670) 664-3754
Fax: (670) 664-3796
Ohio
Steve Gassman, Interim Part C Coordinator
Bureau of EI Services
State Department of Health
PO Box 118
Columbus, OH 43266-0118
(614) 644-8389
Fax: (614) 728-9163
Oklahoma
Mark Sharp, Part C Coordinator
Special Education Office, Department of Education
Oliver Hodge Memorial Education Bldg, 4th Floor
2500 North Lincoln Boulevard
Oklahoma City, OK 73105-4599
(405) 521-4880
Fax: (405) 522-3503
Oregon
Diana Allen, Part C Coordinator
Early Intervention /Early Childhood Special Education
Oregon State Department of Education
Public Services Building
255 Capitol Street NE
Salem, OR 97310-0203
(503) 378-3600 Ext.2338
Fax: (503) 373-7968
Palau
Elizabeth Watanabe, Coordinator
Bureau of Education
Republic of Palau
PO Box 189
Koror, Palau, PW 96940
(680) 488-2537
Fax: (680) 488-2830 Note: use 011
Pennsylvania
Maureen Cronin, Part C Coordinator
Division of Program Implementation
Office of Mental Retardation
Department of Public Welfare
PO Box 2675
Harrisburg, PA 17105-2675
(717) 783-7213
Fax: (717) 772-0012
Puerto Rico
Naydamar Perez de Otero, Coordinator
Part C Program
Department of Health
Office of the Secretary
Call Box 70184
San Juan, PR 00936
(787) 274-5659
Fax: (787) 274-3301
Rhode Island
David Hamel, Administrator for EI Services
Rhode Island Department of Health
3 Capitol Hill
Providence, RI 02908-5097
401-222-4632
Fax: 401-222-1442
South Carolina
David Steele, Part C Coordinator
BabyNet
Bureau of Maternal and Child Health
Department of Health and Environmental Control
Mills/Jarrett Complex, Box 101106
Columbia, SC 29211
(803) 898-0591
Fax: (803) 898-0613
South Dakota
Barb Hemmelman, Education Program Assistant Manager
Office of Special Education
700 Governors Drive
Pierre, SD 57501
(605) 773-4478
Fax: (605) 773-6846
Tennessee
Brenda Bledsoe, Director/Acting Part C Coordinator
Office of Special Education
State Department of Education
Andrew Johnson Tower, 5th Floor
710 James Robertson Parkway
Nashville, TN 37243-0375
(615) 741-3537
Fax: (615) 532-9412
Texas
Mary Elder, Executive Director
Donna Samuelson, Part C Coordinator
Texas ECI Program
Brown-Heatly State Office Building
4900 North Lamar
Austin, TX 78751-2399
(512) 424-6754
Fax: (512) 424-6749
Utah
Susan Ord, Part C Coordinator
Baby Watch Early Intervention
State Department of Health
PO Box 144720
Salt Lake City, UT 84114-4720
(801) 584-8441
Fax: (801) 584-8496
Vermont
Helen Keith, Part C Coordinator
Family, Infant and Toddler Project
PO Box 70
Burlington, VT 05402
(802) 865-1786
Fax: (802) 863-7635
Virgin Islands
Position Vacant
Mavis Mattnew, Acting Comissioner
Department of Health
P. O. Box 9965
St. Thomas, VI 00801
Virginia
Anne Lucas, Part C Coordinator
Infant and Toddler Program
Department of MH/MR/SA Services
PO Box 1797
Richmond, VA 23218
(804) 371-6592
Fax: (804) 371-7959
Washington
Sandy Loerch, Part C Coordinator
Infant Toddler Early Interv. Program
Department of Social and Health Services
12th and Franklin Streets
PO Box 45201
Olympia, WA 98504-5201
(360) 902-8490
Fax: (360) 902-8497
West Virginia
Pam Roush, Part C Coordinator
Early Intervention Program
Office of Maternal and Child Health
Department of Health and Human Resources
350 Capital Street, Room 427
Charleston, WV 25301
(304) 558-6311
Fax: (304) 558-4984
Wisconsin
David Sorenson, Part C Coordinator
Birth to 3 Program
Department of Health and Family Services
P. O. Box 7851
1 West Wilson Street, Room 418
Madison, WI 53707-7851
(608) 267-3270
Fax: (608) 261-6752
Wyoming
Jason Jones, Part C Coordinator
Wyoming Developmental Disabilities Division
Herschler Building
122 West 25th Street
Cheyenne, WY 82002
(307) 777-6972
Fax: (307) 777-6047