Registration for the 2020 CHASA Family Retreat will begin in early 2020. Watch this page for announcements, sign up links and access to the 2020 CHASA Family Retreat Facebook Interest Group.
Are You Ready to Party?
Join hundreds of kids, teens, and adults who have hemiplegia and their families for 4+ days of fun and relaxation. The Children's Hemiplegia and Stroke Association (CHASA) hosts a family retreat where families who "get it" can socialize, share ideas, and have FUN!
Research shows that knowing peers who are like you is very important for the social development of children, especially for children with disabilities and their siblings. We've hosted retreats since 2000, so we know what we're doing! Warning – once you attend one retreat, you'll keep coming back!
Join Our CHASA Retreat Interest Facebook Group to Learn More
Please read this entire page before filling out the Retreat Interest Form (open in February 2020)
After reading this page, if you'd like to attend the retreat, fill out our CHASA Family Retreat Interest Form. The link is at the bottom of this page. After you fill out the form, we'll add you to the Retreat Interest Facebook Group
Who Can Attend the Retreat?
The retreat is open to the families CHASA serves. This means the child, teen or adult with hemiplegia, siblings and parents
We almost always have an equal number of kids in all age groups – from about 1 year old up to adults with hemiplegia who are in their 30s.  You can be assured that everyone in your family will find friends unless you hide in your room.
If you're an adult with hemiplegia, you'll enjoy getting to know others who may have shared similar experiences
Sometimes a parent attends without their child if the child is very young or is an adult who is not interested in attending. Parents may attend without children
If you need help with childcare, you are welcome to bring an adult with you; grandparents or an aunt will often attend. The additional adults will need to register, pay the registration fee and sign the waiver. Please register them with your family
Please do not bring children or teens who are outside your immediate family. There are several reasons behind this guideline and we're happy to discuss with you if you have questions
Service and therapy animals are welcome
When Is the CHASA Family Retreat?
Sunday, July 12, 2020 at 2 pm to Wednesday, July 15, 2020 at noon
Some families extend their trip a day or two before or following the retreat
Where Is the CHASA Family Retreat?
Denton, Texas (hotel group reservations will be available in February 2020)
Do I have to stay at the retreat hotel?
Yes, you must stay at the retreat hotel
CHASA has a financial commitment to the hotel
Our hotel contract for the event states, "Attendees must stay at the hotel and book a minimum of 3 nights under the CHASA group."  The exception to this is if we sell out of group rate rooms, local families may not be required to book a hotel room. If we do not sell out of our group rate rooms, everyone will need to stay at the hotel
Staying at the hotel is a big part of the retreat experience. Kids and parents are hanging out together to swim, play games, do crafts, and plan free time. Many connections take place outside our planned activities. If you're commuting back and forth, you will definitely miss out on the heart of the retreat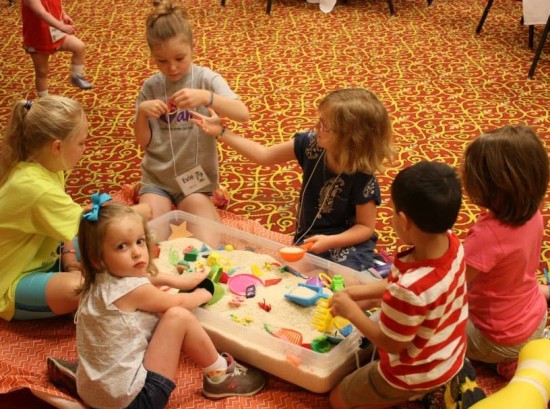 How Much Is the Registration Fee?
Sample Agenda (This will change)

We'll have new programming in 2020, so watch this page and the Facebook interest group for details. Below is an example of our 2018 program.
Sunday – Registration, Meet and Greet, Group Photo, Dinner with group at hotel (included in your registration fee), Group Activity
Monday – Meet Others, Age Group Discussions and Play Groups, Family Activities, Teen/Young Adult Room, Lunch and Topic Discussions with group at hotel (included in your registration fee), Off-site Bowling or other activity, Free Time, and Ice Cream Social
Tuesday -Teen/Young Adult Panel and Demonstrations,  Lunch and Attendee Parade at hotel (included in your registration fee), Afternoon Free Time, and Evening Party/Dance
Wednesday –  Topic Discussion Groups, Hotel Check Out at noon, some families extend their trip and stay additional nights
Is Childcare Available?
Childcare is not available at the retreat
This is a family event and all activities will include parents and children
If childcare is needed, families are encouraged to bring another adult to the retreat to help with their childcare if needed
Please do not ask teens and young adults who are attending the retreat and not traveling with your family to babysit. They may be uncomfortable saying no and they'll miss out on activities for their age group
Are Retreat Scholarships Available?
A limited number of scholarships will be available for families in need.  CHASA provided scholarships to 22 families at our last retreat. Please help us raise funds to reach even more families in 2020. You can set up a fundraiser for CHASA here
Scholarships are not available for travel expenses
Scholarship applications are available in the  2020 CHASA Family Retreat Facebook Interest Group
What are my responsibilities at the CHASA Family Retreat?
Show up and have fun!
CHASA has a staff of ONE, so we ask that at least one member of each family volunteer either before or during the retreat. More information on volunteer positions will be available after you register
Check the CHASA Family Retreat Interest Facebook Group frequently for updates
Please care for your children while at the hotel. Don't allow them to wander the property alone unless they're old enough to safely do so
Please, please, please pay attention to the deadlines – scholarship, scholarship response, hotel reservations, registration, and waivers.
Realize that CHASA has financial commitments with the hotel. Registration fees are not refundable
Want more information? Fill out the 2020 CHASA Family Retreat Interest Form
Fill out the 2020 CHASA Family Retreat Interest Form (available in February 2020)
After you submit the form, you'll be asked to join the 2020 CHASA Family Retreat Interest Facebook Group
In the group you'll learn more about registration, how to pay, scholarship applications, and the hotel group rate reservation code
You must be a FB friend of our admin so we can message you if needed. More info in the pinned post in the FB group
Check the FB group page frequently and read the "pinned post" at the top of the group's timeline
You must visit the Facebook group on a regular basis to receive all information. Facebook does not automatically send all group information to you
On the group page, go to "Notifications" and select "All Posts"