One of our most important goals of a parent is to have their child grow up to live as independently as possible.  The biggest challenges for children with hemiplegia are those small annoying daily activities that most of people do using two hands.  Parents are constantly working with their child to improve hand function, don't they shouldn't be hesitant to seek out items which will make their lives a little easier.
Some items which may help children with hand weakness or paralysis are: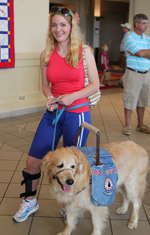 Rocker knives for cutting food without the need to hold it with a fork.
Dycem pads. Dycem is a super non-slip plastic that comes in a variety of shapes, sizes, and colors. Put a pot on a Dycem pad, for example, and you can stir away while the pot stays put.
Cutting boards with spikes and fences.
Under-counter and wall-mounted jar openers – Holds the lid while you twist the jar. One on-counter type holds the jar while you twist the cap.
One-handed can openers.
Brushes in a variety of shapes with suction cups that stick to the sink so you can rub dirty dishes against them.
Pot holders for stove-top use keeps pots from moving while you stir.
Cheese grater with suction cups and bin for grated food.
Playing card holder racks and electric card shufflers.
One-handed iphone holder by Fly Grip
Nail clipper and file on a board with suction cups.
Dental floss-on-a-stick for one-handed flossing.
Plastic snap-on clips that replace twist ties for plastic bags.
Shampoo and liquid soap dispenser that mounts on the shower wall. Press the button with your thumb and catch the liquid in your palm.
A variety of shoe laces that don't have to be tied in the conventional way.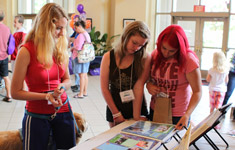 The AfterTherapy Catalog
NCM Consumer Products Division
P. O. Box 6070
San Jose, CA 95150-6070
1-800-235-7054.
adaptAbility
A Division of S&S Worldwide
75 Mill Street – P. O. Box 515
Colchester, CT 06415-0515
Quality Living Catalog
1-800-288-9941
Rehabilitation and Therapy Catalog
1-800-266-8856
Sammons
P. O. Box 386
Western Springs, IL 60558-0386
1-800-323-5547