A donation to the Children's Hemiplegia and Stroke Association can make a difference in the life of a baby, child or young adult affected by hemiplegia or pediatric stroke.
How does CHASA use your donations?
Your donations directly help families of children who have hemiplegia or pediatric stroke.
CHASA Hosts Over 50 Online Groups: It's hard to do this alone and parents tell us the groups are valuable sources of support and information.
Foot Orthotic and Hand Splint Grants: These grants provide financial assistance to the family of a child who needs a foot brace or hand splint.
CHASA Cares! CHASA will send one of our cute Kandu penguins to a child with hemiplegia or pediatric stroke who is having a difficult time or celebrating a success. These children might be in the hospital, facing medical tests or maybe being bullied at school. Or, they may have learned to tie their shoes with one hand, learned a new adaptive sport, or succeeded in reaching a personal dream. CHASA has given penguins to over 250 children and our shipment of 250 additional penguins just arrived. Donate and help us continue this program!
Research Support: Support of researchers who are investigating hemiplegia and pediatric stroke – causes and treatment of related disabilities. Support of innovative pilot programs that we hope will lead to larger research studies.
Annual Family Retreat and Retreat Scholarships:  This gathering of families of children who have hemiplegia provides an opportunity for attendees to visit with experts to learn about the most current information on medical, therapeutic, and educational issues.  There is also the opportunity for parents and children to meet and visit with other families who have been affected by hemiplegia.  This importance of this popular event can be summed up by the words of an eight year old girl who has hemiplegia, "I know that I'm not alone. There are other kids just like me."  Your donations underwrite some of the expenses of this event and also provide scholarships for families.
College and Trade School Scholarships:  These scholarships are available for students who have hemiplegia or pediatric stroke.
Athletic Scholarships: These scholarships are available for students who have hemiplegia or pediatric stroke.

Education: Development of informational fact sheets, awareness and early identification of stroke brochures, websites, medical conferences, speaker programs, and other means of providing families, the public, and the medical community with information about hemiplegia and pediatric stroke.
Weekends for Moms: After surveying moms of kids with hemiplegia, the CHASA board wondered how we could help moms relax and take a break. CHASA helps set up weekends away where moms can enjoy some relaxing time with other women who understand the challenges they face as they parent a child with a chronic illness.
CHASA Local Support Groups: CHASA supports groups across the US.
Pediatric Stroke Awareness Day Events
Regional Retreats: Families in different regions in the US gather for a weekend of support. CHASA funds different aspects of these retreats.
Pediatric Stroke Awareness: CHASA parents created the first Pediatric Stroke Awareness Day in 2002 and continue to lead the pediatric stroke awareness initiative as well as supporting general disability awareness.
Speakers for Local Groups:  CHASA pays honorariums to professionals who speak at local parent meetings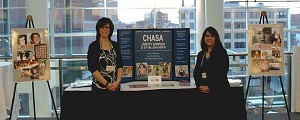 Exhibit Booths at Medical and Healthcare Conferences to provide information and awareness about pediatric stroke
Nonprofit Status
CHASA is a 501 (c)(3) Public Charity and your donation is tax deductible as allowed by law.
CHASA was awarded tax exempt status by the IRS in March 2000.
Memorial and Tribute Pages
View Memorial Page – Donations made in memory of a loved one.
View Tribute Page – Donations made in honor of someone or to celebrate birthdays and other special days.