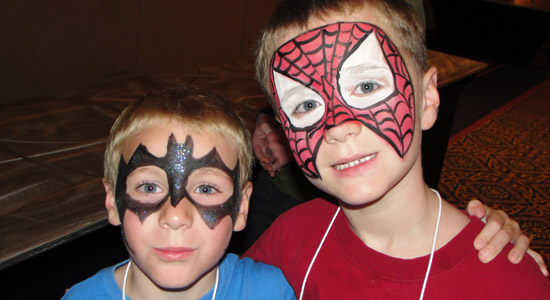 Siblings of a child with disabilities may be in need of information, support, or other resources. Siblings often attend the annual CHASA Family Retreat, CHASA Regional Family Reunions, and CHASA Local Groups where they can meet others who share similar situations.
Resources
Sibling Leadership Network – provide siblings of individuals with disabilities the information, support and tools to advocate with their brothers and sisters and to promote the issues important to them and their entire families.
Siblings of Children with Special Health and Developmental Needs – fact sheet by ARCH with information on understanding the concerns of siblings, creating programs for them and a checklist for agencies
Coping with a Sibling's Disability – An essay by a mom
What Siblings Would Like Parents and Service Providers to Know
The "Other Child" With Special Needs: Understanding Siblings of Disabled Children
Siblings of Kids with Special Needs
Parenting Siblings of Children with Disabilities
Recommended Reads for Parents – Parenting Sibling of Kids with Hemiplegia
It Isn't Fair! Edited by Stanley D. Klein and Maxwell J. Schleifer. Presents a wide range of perspectives on the relationship of siblings to children with disabilities, written by parents, young adult siblings, younger siblings, and professionals. The issues of fairness, expectations, rewards, punishments, care taking responsibilities, and negative feelings are all thoroughly discussed.
Living with a Brother or Sister with Special Needs: A Book for Siblings, by Donald Meyer and Patricia Vadasy. May be useful for both parents and children to read.
Brothers and Sisters: A Special Part of Exceptional Families, by Thomas Powell and Peggy Gallagher.
Siblings Without Rivalry, by Adele Faber and Elaine Mazlish.
How to Cope with Mental Illness in Your Family: A Self Care Guide for Siblings, Offspring and Parents, by Diane Marsh, Rex Dickens and E. Fuller Torrey.
When Madness Comes Home: Help and Hope for the Children, Siblings and Partners of the Mentally Ill, by Victoria Secunda.
Recommended Reads for Kids
Ben, King of the River, by David Gifaldi. Ages 5-8. Chad, the older brother of a developmentally disabled boy, narrates this story about the family's first camping trip. Chad's frank story-telling gets across the highs and lows of the trip and of life with Ben, and his mixed emotions. Includes a page of tips for siblings of kids with special needs.
My Brother, Matthew, by Mary Thompson. Ages 4-11. Offers a sibling's point-of-view of the ups and downs of life when your brother is born with a disability. David, the older brother, wryly shares the worry, impatience, feeling left out, being talked down to by grown-ups—and the positive ways in which he has built a unique relationship with his brother.
Way to Go, Alex!, by Robin Pulver. Ages 4-8. Carly feels the dual emotions that many siblings of special-needs children may feel. Her older brother Alex participates in the Special Olympics.
Sara's Secret, by Suzanne Wanous. Ages 7-9. Sara's secret is her little brother Justin, who has cerebral palsy and cognitive differences. Her love for him and the discomfort he causes her at school are realistically portrayed.
Views from Our Shoes: Growing Up With a Brother or Sister With Special Needs, edited by Donald J. Meyer. For ages 7 and up. 45 children aged 4-18 contributed to this book. They share their experiences as the brother or sister of someone with a disability—the good and the bad, as well as many thoughtful observations.
The Summer of the Swans, by Betsy Byars. Ages 9-15. A 14-year-old girl's  little brother gets lost, and the family realizes how much they really appreciate him.
A Real Christmas This Year, by Karen Williams. Ages 9-15. Megan's special-needs little brother makes life harder on her family, just when she already has lots of things going on in her own life. Realistically portrays the life of the family in caring for a disabled child.