A donation to the Children's Hemiplegia and Stroke Association can make a difference in the life of a baby, child or young adult affected by hemiplegia or pediatric stroke.

Five Ways to Donate to CHASA
1. PayPal – You may donate online using Paypal
2. Crowdrise  – You may donate to CHASA online at Crowdrise
You may also direct your donations to the following programs:
CHASA Athletic Scholarship Fund
CHASA College and Vocational Scholarship Fund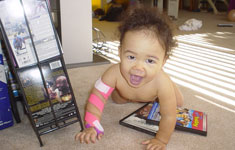 Kandu's Kids Fund – Help us send our cute mascot Kandu, a friendly stuffed penguin, to the kids.
CHASA Orthotic Grant Fund – We'll help pay for hand and foot braces for children with hemiplegia. You can help a child learn to walk by donating to this fund.
3. Mail a check to:
CHASA
4101 W. Green Oaks, Suite 305-149
Arlington, TX 76016
If you would like an acknowledgement letter for your donation, please note this.
4. Company Match: Ask your employer if they will match donations made to a 501(c)(3) nonprofit. They may give you a form to fill out or ask for CHASA's contact information. We will be happy to assist with the matching process.
5. Amazon Smile: Amazon will make a donation to CHASA and it doesn't cost you a dime. Click here for more info.
How Does CHASA Use Your Donations?
Our Commitment to Transparency

Our Nonprofit Status
CHASA is a 501 (c)(3) Public Charity based in the United States and your donation is tax deductible as allowed by U. S. law.
CHASA was awarded tax exempt status by the IRS in March 2000. Prior to 2000, CHASA was a grassroots family support organization, founded in 1996.
CHASA incorporation and non-profit status
Memorial and Tribute Pages
View Memorial Page – Donations made in memory of a loved one.
View Tribute Page – Donations made in honor of someone or to celebrate birthdays and other special days.