Our Kids Can Ride!
Kids with hemiplegia are successful riders on a variety of two and three-wheeled trikes and bikes. On this page we'll share information about traditional biking as well as adaptations you can try. Your child will help you figure out what works best.
Learning to ride a bike is an important rite of passage during childhood.  Most kids start with a tricycle, then a two wheeler with training wheels and then they lose the training wheels and that's the end of it.  While that might be the progression for some of our kids, many children who have hemiplegia have a significant difficulty learning to ride a traditional bike. For those kids, there are many alternative options available.  We recently asked families of kids with hemiplegia about bike riding.  We learned a lot about how our kids are biking and staying active.
Riding a Traditional Bike
There is certainly a group of our kids riding a traditional bike without training wheels.  It seems as though many of these kids attending a special program either through their therapist, or through a "learn to bike" program in the community, although some learn to ride at home.  Programs such as the I Can Shine travel around to various cities and help teach children to independently ride a two wheeler.  Several CHASA families have reported that their child learned to ride a two wheeler through attending such a program.  The cost of these programs varies but is typically around $200.00.
Riding a Specialized Bike
Another option is some sort of specialized bike. AmTryke is an adaptive tricycle that allows children to crank the bike with both their hands and feet (they also have hand only and foot only adaptive cycles).  These bikes are available for toddlers up to adults and range in price, however the AmBucs program will often help families with the cost of an AmTryke.  Many families receive a free AmTryke through this program. Besides the AmTrike, there are a variety of recumbent trikes, standard upright trikes, and bikes with training wheels that will work for larger kids. Handcycles may be an option for those unable to pedal a bike with their feet.
Tips for HemiKids who Ride Bikes
Consult with your child's therapist and physician about the safety and indication for using any modifications or bike/trike.
Get ready for bike riding by using a balance bike, scooters, tricycles, or Ambyke before you graduate to a traditional bike
Your Occupational Therapist may have a learning to bike program called Pedal Magic that includes learning about shifting the weight and making lots of circles with ones feet on the ground
Use adult sized training wheels as your child grows older
Help your child find a way to keep her foot on the pedal. Try adding toe cages, toe clips, or Velcro foot straps to the pedal. The risk with these is that your child's foot may become stuck on the pedal if/when she loses her balance and tips the bike over.
Pedal Blocks for Kid's Bicycle or Tricycle are lightweight blocks that fit between the pedal and foot cup to adjust for leg length differences.
Local bike shops can modify handle bars and switch brake to the other side
Host a fundraiser to help with the cost of a specialty bike
Check out the adult sized training wheels on the bike below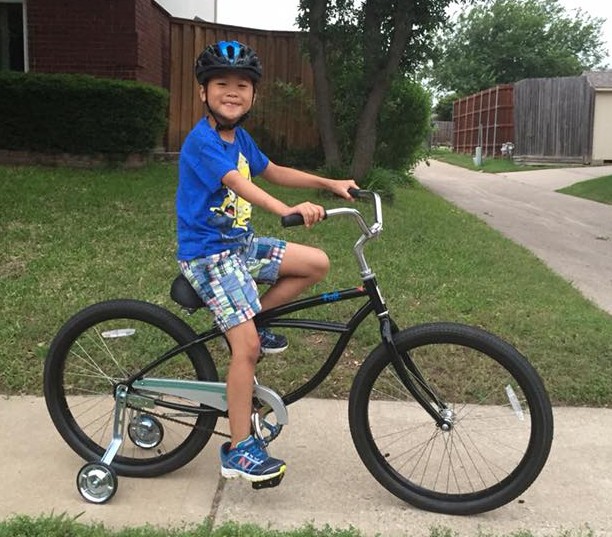 Adaptive Bikes
AmTryke AMBUCS is a national non-profit service organization dedicated to creating mobility and independence for people with disabilities. These trykes are often given at no cost to children with disabilities who have a financial need.
TeraTrike  is an djustable bike, meaning it can work for a 10 year old up to adult age. This bike is a little higher off the ground than a traditional bike, making it easier to get onto and off the bike. It also may help make the rider more visible to drivers.

Recumbent bikes are another option for kids with hemiplegia.
ManoMano Cycling – bike with one-handed steering
Adaptive Bike Pedals – this site may not be active, but has photos of adaptive pedals
Adaptive Bikes – check out real life biking experiences
Other bikes and trikes recommended by families of kids with hemiplegia – Junior TrailMate, ICE Adventure, Freedom Concepts Trike, HFT All- Terrain Tricycle, Mobo Triton 3-Wheeled Cruiser,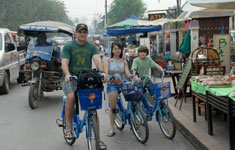 Darla shares her son's story
My son rides a recumbent trike and I often worry about what the other kids will day about it.  He was riding with a neighborhood recently and I overheard the boy ask my son "Wow, is that you're bike? It's so cool, is it a racer?".  The other boy then wanted to take a spin on his bike, which my son was fine with.  My son's trike was purchased second hand and he loves being able to go out biking for his friends now.
Tammy shares her son's story
I want to share information about the trike we got our son; he was 12 before we even thought about a trike. I saw an elderly man on one and my brain went ding, ding, ding. Anyway we started looking at them and thought most looked a little old fashioned and not something our son would be proud to ride around on. We ended up getting him an all chrome low-rider with a banana seat and taller handle bars. When we first started riding it around town, all this kids would run up to him and ask to ride it, even kids older than him. We live in a small town and people slow down on the street as they drive by to tell him how cool it is. He is almost 18 and he still rides it (he isn't driving yet) but it is still something he thinks is cool. My husband belongs to a rat rod & rockabilly club and a lot of people bring their low-riders and trikes for the show and everyone always stops Austin and ask him where he got his trike. I think it is important for them to be proud of what they are riding and not embarrassed, especially as they get older and what people think becomes important. Think of it as a life time investment, it was the best thing weever purchased for him. Right now he is wanting to do some customization to it before the next bike/car show.