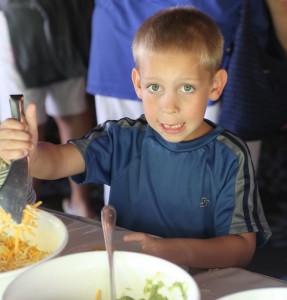 Ready to cook your own meals? You may be a great "cook from scratch" cook, but if you don't want to spend a lot of time in the kitchen, check out our tips below.
make extra meals and freeze them in the portions you need
some meals that freeze well are roast, chicken, fajitas and lasagna
use a George Foreman grill to quickly cook things like hamburger patties and skinless boneless chicken breast tenders and thighs
freeze dried herbs available at Litehouse
the crock pot may be your best friend
Simply Meal Prep
Trader Joe's has pre-cut veggies to simplify meal prep
pre-cut frozen veggies are available at most stores
pre-cut fresh veggies are at the salad bar
buy a rotisserie chicken at the grocery store, pull the meat off it and use in a variety of dishes. Costco sells rotisserie chicken already shredded in a package.
buy frozen chicken breasts instead of a whole chicken – you can use as many as you need; some recipes will allow you to put frozen chicken directly in a crock pot
grill chicken breasts and use in different recipes during the week
buy bulk ground beef; season with salt, pepper, minced onion or onion powder and garlic (or whatever spices you prefer); cook it all at one time and then freeze in one pound freezer bags. Thaw in the microwave and use in spaghetti, tacos, soups, stir fry, etc.
trim chicken breasts, add marinade and freeze; defrost in fridge a day in advance, then bake. Serve with rice and veggies
precook on weekends for the week
wash lettuce and spin dry in salad spinner; this will keep all week
wash and dry containers of fruit on the weekends
use an electric mixer to "shred" chicken after it's been cooked
make smoothies in a Nutribullet; buy smoothie fruit packs at grocery store in frozen fruit section; you can use large chunks of fruit with the Nutribullet
freeze leftover smoothie in ice cube trays
make smoothies at might with protein powder, quick shake in the morning to mix it back up
ripen bananas; peel and break into chunks then throw into freezer bag and freeze for smoothies
Easy Meal Ideas
packaged rice and noodle pouches + frozen veggies or pre-cooked chicken chunks (or canned chicken)
grilled cheese sandwich and canned soup
quesadillas
chicken breasts cooked in crock pot with barbeque sauce; "shred" the chicken with an electric mixer
microwave a baked potato
bean burritos
crock pot dump meals – google this for recipes
cook pasta and add sauce – a varitey of sauces are available. Try pesto in a jar, spaghetti sauce or make your own sauce in bulk and freeze to heat up later
some Pinterest recipes combine just a few Trader Joe's ingredients
pick up a few prepared salads and keep in the fridge
search for "crock pot dump meals"
easy marinade – Italian salad dressing
Trader Joe's soyaki marinade for chicken
Delivery and Take Out
Freshly delivers healthy refrigerated meals that can be heated
Blue Apron provides pre-measured ingredients that you'll need to make a meal
Schwann's online grocery delivers products to your home
Most grocery stores have fresh prepared foods in their Deli area
Cook Books with Simple Recipes
How to Cook Without a Book – teaches you to cook with items you already have and how to have a well stocked pantry so you don't have to shop that often, saving time and energy
A Man, A Can, A Plan
Easy Recipes
Sausage Pasta by Rashae
1 package Kielbasa sausage, sliced
1 bag frozen peppers and onions
1 box rotini noodles
1 jar spaghetti sauce
1 large scoop sour cream OR cream cheese
Boil noodles.
In a medium size stock pot, saute sausage until hot. Add peppers and onions until fragrant, draining excess liquid if necessary. Add noodles to sausage, pour in jar of spaghetti sauce. Heat until warm. Add in a scoop of sour cream or cream cheese, stir until incorporated. Super simple "home cooked" meal in 20 minutes.
Southwestern Taco Toss
ground beef
tomato sauce
taco seasoning – can be purchased in a packet at grocery store
tortilla chips
shredded cheddar cheese
Brown ground beef. Add tomato sauce and taco seasoning. Simmer. Crunch up tortilla chips in a bowl. Add meat and cheese. Toss.
Crock Pot Chicken Taco Chili – uses mostly items in a can
Easy Meals Using a Rotisserie Chicken
Smoothie Recipes
1/2 cup milk; 1/2 cup ice; 1 scoop vanilla protein powder, little Greek yogurt to thicken and fruit
Chocolate smoothie – 1 frozen banana, cocoa, black beans, 1/2 cup milk
Strawberry smoothie – 1 frozen banana, strawberries, 1/2 cup milk
Green smoothie – 1 frozen banana, spinach and mint flavor; 1/2 cup milk; sprinkle with chocolate chips
Peach smoothie – 1 frozen banana and peaches, 1/2 cup milk
Choose Simple Sides
Add simple side dishes like fruit or a salad.
whole apples or pears
fruit salad
apple sauce
bagged salad
coleslaw from the deli
baked beans from a can
sliced avocado
canned or frozen veggies
baby carrots
More CHASA in the Kitchen Ideas
Learn more about cooking with one hand
Join our CHASA Hemiplegia Parent Group on Facebook
Join our CHASA Adults Living with Hemiplegia Since Childhood Facebook Group