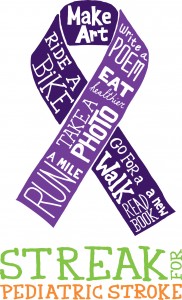 It's time to get your streak on.  How will you Streak for Pediatric Stroke? Pediatric Stroke Survivors often have multiple disabilities. If these little stroke survivors can do some of the hard things they do every single day of their lives, then we can do something to honor them. Help CHASA keep helping families and also increase awareness.

How do I Streak for Pediatric Stroke?
Set up your Streak for Pediatric Stroke  Awareness Page at Crowdrise. Share your story and ask friends, families, neighbors and whoever else you know, and ask them to donate to CHASA so we can keep helping you and your kids.  The world needs to hear about our little stroke survivors. If you're the friend of a survivor – even better – tell us how they inspire you.
What does "streak" mean? It means doing the same thing several times in a row. Kind of like our kids do in therapy. You've heard of a "winning streak" in sports – this is where we got the idea.
Streak Ideas. You may streak for a few minutes or for the entire month of May. You may have a heathy streak, an inspirational streak, or a building awareness streak.
Read a book with my children because my child struggles to read
Run a mile because my child struggles to walk
Take my child to the park
Eat 5 fruits and veggies
Tell someone that Kids Have Strokes, Too
Walk for 30 minutes
Go to the gym
If I'm a stressed out caregiver, I will relax for 15 minutes
Go purple – purple hair streaks, make a purple-streaked shirt, purple mani or pedi, paint your lawn purple, purple banners at school
Past Streakers
Just a few examples of our many Streak for Pediatric Stroke Awareness Streakers. These are from an older Streak Campaign and we've since moved our fundraising/awareness pages to Crowdrise.
Art, Blogging, Purple Hair – Nancy is Streaking!
Streak for Pediatric Stroke- Team Brody!
Pregnant and Streaking – from her hospital bed
Introducing the Inspirational Evan – And My Streak for Pediatric Stroke
Oliva's 7 years old and Streak for Evan – her brother had a stroke
Pediatric stroke survivors have daily struggles with:
walking
tying shoes
talking
reading
remembering to take seizure medicine
trying not to trip and fall down
stretching and therapy exercises
memory problems
dealing with bullies
ignoring stares
fighting for the ability to learn and access their community
Learn More About Pediatric Stroke