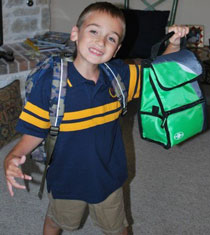 Sometimes children with hemiplegia find it helpful for a parent, or other adult who understands their condition, to give a talk about their condition to their classmates. Or, better yet, the child may give the talk.
Below, parents of children who have hemiplegia share their talks with you.
School Talk 1 – elementary
School Talk 2 – 1st grade
School Talk 3 – 2nd grade
Disability Awareness: We're In It Together
Demonstrating What It's Like to Have a Disability
Many disability advocates have criticized efforts that try to "simulate" what it is like to have different disabilities. Their concern is that such exercises often reinforce stereotypes and emphasize a "deficit" model of disability. Putting socks on our hands to simulate fine motor problems or sitting in a wheelchair for a few hours is seldom a realistic way to understand the experience of disability and sometimes causes the student to either dismiss the disability as "no big deal" or pity those individuals with disabilities.
Share Your Talks with Us
If you or your child have given a talk at your their school and you think that it will be helpful to other parents, please share it with us.